Molly & Brian's Travel-Inspired Home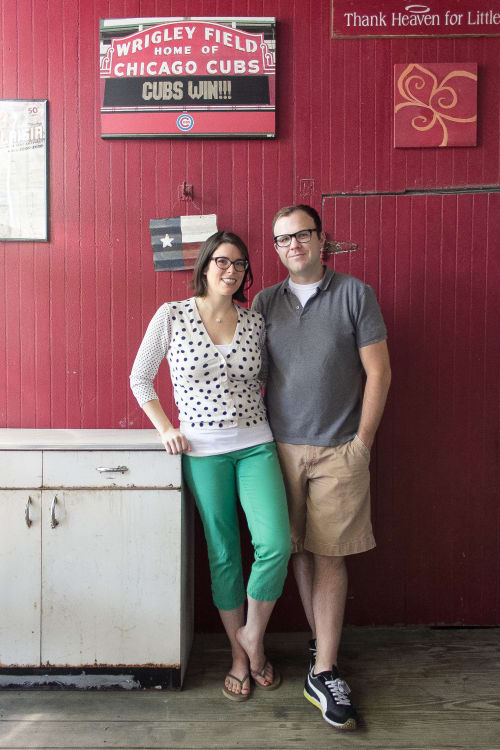 Name: Brian and Molly Blonn, Associate Planner, Soirée Weddings & Events
Location: Wicker Park; Chicago, Illinois
Size: 1,500 square feet, including porch
Years lived in: 2 years; Rented
It's always fun to be able to visit the home of a couple in transition. Molly and Brian moved into this classic Chicago apartment when they were first married, and have spent the past few years enjoying their neighborhood and entertaining friends. Now that they're expecting their first child, they're getting ready to move, and I was happy to capture their newlywed home before they head to their first family home!
As a wedding and event planner, Molly loves home projects and was eager to decorate her place with comfort and ease of entertaining in mind, as well as an eye toward travel themes. Globes and other travel-related elements, like a huge, amazing atlas, are scattered throughout the space. Molly is particularly fond of Ireland and her Irish heritage: I loved her Ireland hand towels in the kitchen and canvas art county map in the bedroom!
Surrounding themselves with memories of the people and places they love keeps this couple content and inspired, a sensibility that I'm sure will translate to their new home, no matter how different their circumstances may be. Best of luck in the new place, you two!
Apartment Therapy Survey:
My Style: Gosh, I pull from everywhere. I love the styles of Anthropologie, Pottery Barn, West Elm, and Restoration Hardware, with a touch of mid-century. I love vintage with touches of modern, or modern with touches of vintage – but it has to be functional.
Inspiration: Apartment Therapy and Pinterest, Mad Men (must admit it!), Real Simple, and other people's homes that authentically represent them.
Favorite Element: We immediately fell in love with the vintage construction, high ceilings, the large family/living room space, and the patio. I think the patio may have been the deal-maker, though.
Biggest Challenge: There's really only natural light in the front room and kitchen – so the bedroom can get pretty dark.
What Friends Say: It's a perfect place for entertaining. There is ample space for people to move around and get a good flow going between the house and the porch. I can say we certainly have thrown some good parties in this place.
Biggest Embarrassment: The bathroom, for sure. Not only is it very small, but the toilet itself is really low – it almost feels like a child's toilet when you sit down on it.
Proudest DIY: I am not sure if a wall of vintage maps would be considered DIY, but I absolutely love the way it turned out. Instead of nails, I used t-head pins that I snagged from my local dry cleaners. I also love my mirror-topped end table. I removed the mirror from a bathroom vanity, painted the wood black with paint that I had, and just placed it on an alley-picked end table. Now it has a very modern feel, and it was free!!
Biggest Indulgence: I suppose I would have to say our floral rug in the main room. We still bought it at over half off – but it is by far the most expensive piece in the entire house.
Best Advice: Always have your eyes peeled for inspiration — and you can always bend the intended purpose of an item to your own liking. It's also ok to allow your styles to change — mixing styles can be great.
Dream Sources: Anthropologie, West Elm, vintage pieces brought back from travels, Etsy, Restoration Hardware, flea markets.
Resources of Note:
PAINT & COLORS
ENTRY
Herman Miller style chairs: Hayneedle.com
Curtains: Target
Leaning ladder bookshelves: Craigslist (originally from World Market)
Desk: World Market
End table: Craigslist
Dresser: Randolph Street Market
Coat Rack: Urban Outfitters
Painting: World Market
Vintage suitcases: Thrift and vintage stores
Clock: Wicker Park Festival
LIVING ROOM
Couch: Craigslist
Coffee table: left by previous tenants, and refinished
Silver Lucite tray: West Elm
White porcelain turtle: West Elm
Milk Glass teacup: garage sale
Red velvet chair: Craigslist
End tables: found and refinished
Khaki/neutral chair: Randolph Street Market
Hutch: Begin Again Furniture
Rug: TheFoundary.com
Paned window: Craigslist
Mirror with black frame: Antique store in South Haven, MI
Various gold frames/clock: gifts from family, thrift stores
Instagram Frame: DIY, photos printed via Social Print Studio
Painting: World Market
SIDE ROOM
Couch: Ikea
Vintage Maps: handed down from Brian's great-aunt
World Atlas: handed down from Brian's great-aunt
Globe: Randolph Street Market
Vintage menus: passed down from grandparents
Clipboards: Office Depot
Bookshelf: Target
Curtains: Ikea
Rug: Ikea
Trunk: gifted when Molly went to college in 2003.
KITCHEN
Storage Bins: Container Store
Gallery wall: original renderings from Chicago World's Fair program – passed down from Brian's great-aunt, in IKEA frames.
Birch branch: Randolph Street Market
Kitchen Towel: Crate & Barrel
BEDROOM
Dresser: left by previous tenants
Mirror: Craigslist
Ireland artwork: Hayneedle.com
Gallery wall frames: Target/Ikea
Mirrored vanity tray: Randolph Street Market
Vase: leftover from wedding
Ampersand sign: leftover from engagement party
Pinwheels: DIY from sister's wedding
Milk glass: leftover from wedding
Gray porcelain urn: found
Nightstand: Vintage Underground
Lamp: World Market
Nightstand Books: covered with Paper Source paper
Wedding cross-stitch: gift from parents
PORCH
Table/chairs: Craigslist
Rocking chair: Craigslist
Blue folding chair: IKEA
Thanks, Molly and Brian!
(Images: Alexis Buryk)
• HOUSE TOUR ARCHIVE: Check out past house tours here.
• Interested in sharing your home with Apartment Therapy? Contact the editors through our House Tour Submission Form.
• Are you a designer/architect/decorator interested in sharing a residential project with Apartment Therapy readers? Contact the editors through our Professional Submission Form.
Apartment Therapy supports our readers with carefully chosen product recommendations to improve life at home. You support us through our independently chosen links, many of which earn us a commission.