How To Stick To A Budget in Your Nursery or Kids Room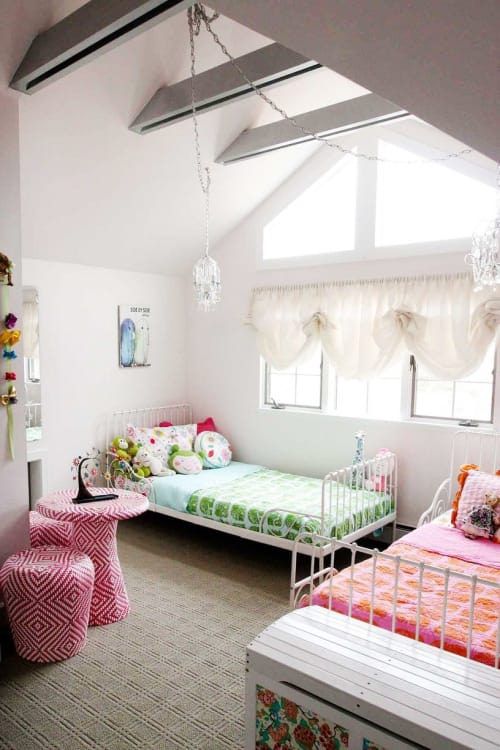 It's easy to get over-excited when decorating a kids' room, right? I mean, planning a room full of fun items, colorful things, cute things - I know from experience - makes it really hard to keep that cash in your pocket. And yet, as a parent I also know that overwhelming pressure to keep costs down for the family. So today we're broaching the un-fun but essential topic of how to make that nursery creation or room-redo budget work.

First up, don't set yourself up to fail - be reasonable with the budget from the beginning. "I'm going to decorate this whole nursery for $50" might work for super-human DIY blogging geniuses, but in the real world that is a really, really hard task. If your budget looks too small, try to increase it with a yard sale, or selling pieces of furniture that aren't working for you online. Maybe you could cut back on other luxuries for a month (like take-out or that coffee on the way to work), and putting any money you save into your total.
Secondly, and this is the best way to keep to any promise you have made to yourself, and especially if it is one you are not especially motivated to keep, is to share it with someone else. Be accountable. Find a person, maybe a spouse or a close friend, who you can share your budget with, and whose job it is to say "hey, how are you going on sticking to that?" and, the dreaded "can you really afford that?". To make it fun: consider blogging about your decorating project, and posting your budget, and a breakdown of how you are keeping it, online. That way a whole bunch of people are keeping you accountable.
Third, break down the things you are spending money on in terms of how essential they are, and another scale on how much visual impact they will make. Sometimes items in your budget will blow out of proportion and that is when you are going to need this list - you simply have to, sometimes, say no to buying something. If you need to cut expenses, cut the items at the bottom of your lists - the ones that are least essential, and make the least visual impact. Remember for a kids' room, almost nothing is actually essential. Be freed from thinking you've got to get a rocker, or a bedside lamp, or even a rug (though a rug will be high on the visual impact scale). Really, kids just need a safe, warm place to sleep.

Last of all, reward yourself for doing good. If you don't spend all the money you had budgeted, that is awesome! Take the family out for dinner with the money, get a babysitter and go to a movie, get a manicure, whatever motivates you to save. Maybe one of those super non-essential items that you thought you wouldn't buy, you could aim to save that much (say, some awesome lamp that is $50) and if you find yourself with $50 at the end, get it! You did great, you earned it.
How do you keep your decorating budgets on track?
(Images: 1. Ashley Poskin/Kristy's Tropical Tudor 2. Marcia Prentice/Annah & Benny's Sophisticated Family Home)