Cooper's Blue & Pink Palace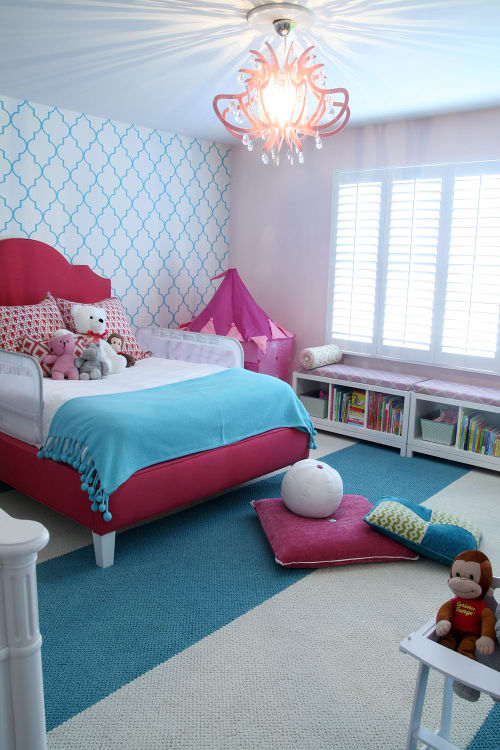 Name: Cooper, 4 1/2 years
Location: Pacific Palisades, CA
Room Size: 350 sq ft
When Morgan Simonds and her husband needed to decorate their kids' rooms, they turned to fantastic L.A. interior design firm Jackson Paige. Kristine Paige Kamenstein, one of the co-founders of the company, took on the project and helped the Simonds turn their kids' rooms into livable, beautiful spaces. With a turquoise and pink color palette, Cooper's room is bright, airy, and perfectly girly.
Cooper needed a room that she could grow into, and Kristine and Morgan came up with a perfect solution, combining bright colors with more sophisticated patterns and fabrics. Mixing in some vintage pieces, like the lamp on the bookshelf that belonged to Morgan's great grandmother, also balances the room's aesthetic to make it both childlike and refined.
How would you describe the look and feel of this room?
Kristine: Fresh, bold and colorful.
What is your favorite piece or element?
Morgan: My favorite element in Cooper's room is the chandelier which I discovered at the Plush Show. She's obsessed and it casts little rainbows all around her room.
Kristine: The wallpaper. It's a sophisticated pattern but in the bright turquoise color way and mixed with all the bright colors in the room it looks perfectly appropriate for a little girl. I also love the little slipcovers we have made for the little chairs around the table.
What was the biggest challenge decorating this room?
Kristine: Creating storage and seating without going through the hassle and cost of constructing built-ins. We purchased two storage benches from Serena & Lily and made custom bolsters.
How did you decide on the striping in the carpet, and how did you achieve it?
Kristine: Morgan loved the idea of stripes on the ceiling but since the ceiling height is not very high and I didn't want to bring attention to it, I proposed alternating different colors of the same carpeting in stripes on the floor.
You had several elements custom made. Tell us which ones and why you chose to go custom.
Morgan: The monkey pillows on the bed and the bolsters were both custom made. We had bedding that we weren't going to use, and we decided to use the fabric to make accent pillows. We also created the carpet by using two different color ways to create stripes, since I loved the idea of striping.
If money were no object, what's your dream source?
Kristine: Custom. It's always fulfilling to design custom furniture and cabinetry for clients. The design then becomes unique to the project, the space and the client.
Source List:
Thanks, Morgan and Kristine! To see more of Kristine's designs, visit Jackson Paige.
(Images: Beth Callaghan)
• MORE KIDS' ROOMS ON APARTMENT THERAPY
• SUBMIT A BABY OR KID'S SPACE
Apartment Therapy supports our readers with carefully chosen product recommendations to improve life at home. You support us through our independently chosen links, many of which earn us a commission.